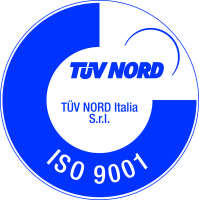 Guastalla, Italy, 30 August 2014. Frigeri is proud to announce another step in its commitment to continual improvement and dedication to Clients' success with the certification of its Quality Management System to ISO 9001:2008 standard.
Frigeri has been certified as meeting the requirements of ISO 9001:2008 for the following activities:

"Design, manufacture and installation of tools and dies for sheet metal cold working".

Frigeri underwent a three-staged stringent evaluation process that included quality management system development, documentation review, gap analysis, internal audits, pre-assessment and clearance of non-conformances, all of which work to identify system debugging actions and eliminate system bugs to the quality management standard. According to CEO and President, Elisabetta Frigeri, "ISO certification validates our 9-stepped strategy to face at the best the challenges in the current business environment."
The comprehensive registration audit was given by TÜV Nord Italia, which issued the certificate of registration on 2014-08-29.
Frigeri received 2 special mentions in the GP (Good Practices) section. The first GP mention was given to the overall quality of the QMS documentation. The second GP mention was given to the consciousness level of all employees to the QMS tools and their meaning, use and usefulness.
The certification of compliance with ISO 9001:2008 recognizes that the policies, practices and procedures of Frigeri ensure consistent quality in the tools, dies and services we provide our Clients. With this certification, our Clients can be confident that Frigeri is dedicated to maintaining the highest efficiency and responsiveness in achieving our ultimate goal – achieving our Clients' robust and durable loyalty.
Roberto Di Zitti, Vice President of Frigeri and Quality Management System Manager, says, "Our decision to become certified is a proactive one that not only anticipates the expectations and demand of growth coming from our Clients, but also demonstrates our organized and structured dedication to achieving the highest goal of our quality policy: the robust and durable loyalty of our Client."