FRIGERI is a world-class company in the SE (Small-sized Enterprise) market segment of the sheet metal stamping global industry.
In more than four decades working side by side with the major European and worldwide corporates, FRIGERI gained a vertical and singular know-how and a piece-by-piece cost-effective excellence in producing metal stamping dies for high volume production of the most demanding, complex, aesthetic parts destined for the main markets of home appliances, automotive, heating and conditioning, lighting and some minor markets.
From our facility in Guastalla, Italy, through both in-house and third-party extensions products and services, we provide our Clients with the following capabilities:
• Engineering
• Tooling
o Manufacturing and Try-Out
o Modification and Re-Engineering
o Maintenance and Repair
• Stamping
• Expertise, Consultancy and Outsourcing Support
Our 45+ years of world-class level technical expertise and comprehensive engineering and manufacturing capabilities, make FRIGERI the supplier of choice for engineering, tooling and stamping projects in the most demanding and competitive industries, where finding the right technology-to-price-to-value ratio and lowering the total cost of ownership counts the most.
We are proud to provide our Clients with outstanding dies produced in an efficient, no-frills, cost-effective, dedicated and devoted engineering&manufacturing environment.
We will be pleased to share the details of our capabilities with you.
Look at the following pages to find out how Frigeri can help you take care of your project, from concept to best-in-class production.
ENGINEERING
CONCURRENT ENGINEERING
FRIGERI designers partner and concur with Clients in the early design phase to shorten product development time. Concurrent Engineering process links our die designers with Client industrial designers to provide:
introduction and management of feasibility criteria during early part development, when the greatest improvements and savings are possible
early part geometry formability and manufacturability assessment
address and solution of feasibility issues&criticalities
part geometry debugging
verification and validation of multiple stamping scenarios, to find the best business option
answer to Client's inquiries
engineering change management.
SIMULATION-DRIVEN DESIGN TECHNOLOGY (SDT): OUR "RIGHT-THE-FIRST-TIME" CHALLENGE
Since 2002, our Simulation-driven Design Technology (SDT) has enabled us to achieve performance, timing, and cost targets through rapid virtual product and process exploration and qualification.
Design ideas, concepts, alternative materials and stamping methods are evaluated by our designers through simulation, thereby eliminating the need for physical models and speeding up the design process. A great amount of virtual press testing is done efficiently, which results in higher performing stamping dies that meet or exceed Client expectations and regulatory requirements.
Our SDT enables not only efficient product design, evaluation, optimization, and validation, which yield the insightful information and performance metrics necessary to our Clients for sound business decision making, but allows our designers to create high-performing stamping dies using the smallest  amount of raw material. Not only does this mean for our Clients lighter-weight products, which conserve raw materials and reduce costs, it also helps our Clients to lower the environmental impact of manufacturing and manufacturing related processes.
Finally, SDT permits our designers cost-efficient exploration of "what-if" stamping scenarios, so providing our Clients with diverse business options and allowing their businesses to avoid competing on price alone to gain market leadership.
SIMULATION STUDIES
At FRIGERI, we understand the value of mastering mature and state-of-the-art technologies to provide our Clients with more efficient and cost effective options.
The pervasive use of a comprehensive CAE simulation software platform, combined with our 45+ years of field experience, allows our designers to create superior stamping dies efficiently and cost effectively. We accomplish this in three significant ways:
product simulation or virtual press testing
process simulation or virtual startup
in-process simulation (change order management), post-process simulation (comparative follow up analysis) and tracking of change orders, not only as post-design-release measures of the successful use of simulation in the design phase but also to facilitate our continuous efforts to continuously improve the use of stamping simulation.
PRODUCT SIMULATION: VIRTUAL PRESS TESTING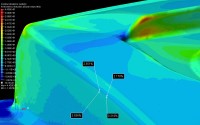 According to the process stage, the Client's requirements and business needs, the product simulation study is performed on an iterative basis by switching between two basic and different approaches:
forward-chaining approach (constraints on the input parameters)
backward-chaining approach (constraints on the output parameters)
Through metal forming simulation our designers achieve the following process targets:
planning and validation of the entire forming process through incremental analysis, including all primary and secondary drawing operations as well as springback
thickness and thinning analysis
prediction and correction of splits, cracks and wrinkles appearing during forming process
springback calculation and correction
detection of cosmetic defects
blank size and shape prediction for best material utilization
definition, optimization and validation of stamping parameters
PROCESS SIMULATION: VIRTUAL STARTUP
In applicable cases, to analyze, predict and correct potential issues on complex production transfer lines, FRIGERI can provide its Clients with a complete process simulation by setting up a virtual dynamic press simulation environment.
Through process simulation Frigeri achieves the following targets:
prediction and correction of dynamic collisions, interferences and proximity issues between press, dies and transfer parts and components
force calculation
part deflection calculation
die kinematics verification within the die assembly
tuning of the target stroke rate and synchronization of parts
See more here
DIE DESIGN: A SIMULATION INTEGRATED ENVIRONMENT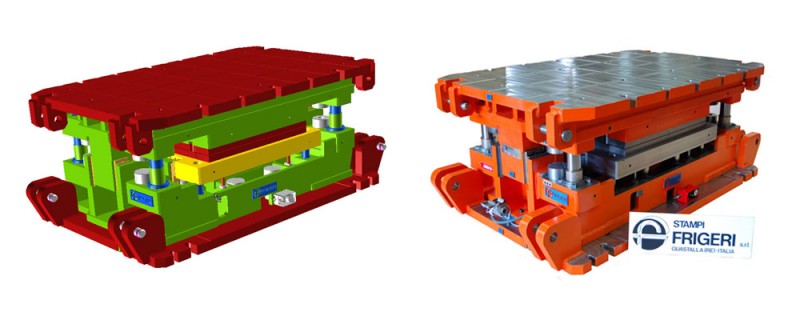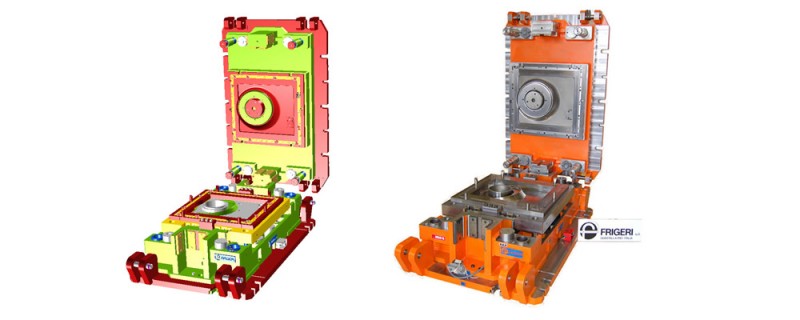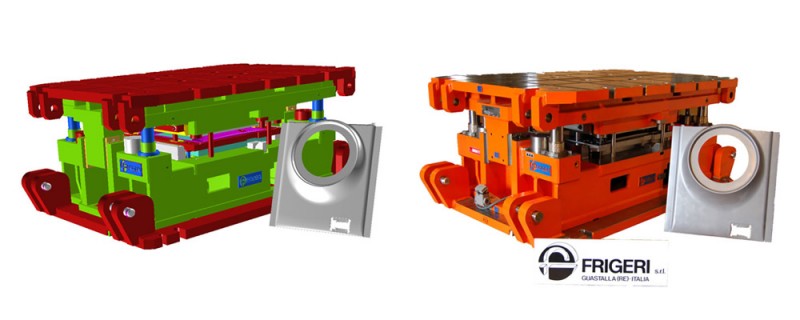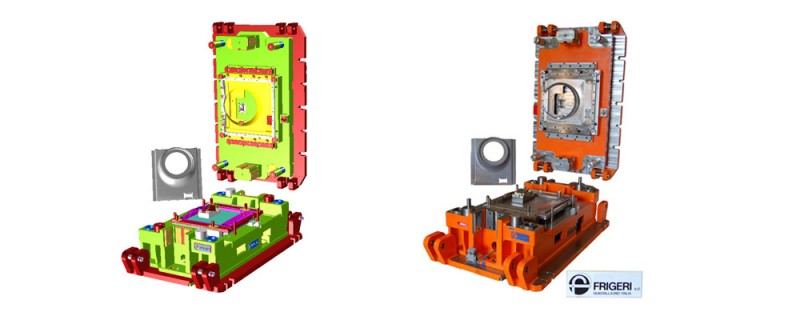 As a front runner of 3D die design in Italy, since 2002 Frigeri has been designing stamping dies in a simulation integrated design environment, exclusively by means of a 3D solid-volumetric design technology in a paperless environment.
The outcome of the product simulation, resulting in a defect-free part and an optimised stamping process, allows our designers quickly to complete the die design tasks on the basis of the simulation results by importing the final part reference geometry into the CAD application and designing the complete die assembly by using the design capabilities of the CAD system.
The efficacy of our simulation integrated design environment is further enhanced by the power of integrated tools, sub-processes and debugging methodologies:
FRIGERI Design Standards&Rules
FRIGERI KMS (Knowledge Management System)
Client's and FRIGERI Specifications and Requirements Integrated Management
Interferences and Collisions Check
Die Kinematic and Dynamic Analysis
Multiple Cross-Functional Design Reviews
Design for Manufacturability
Product Lifecycle Management
See more here
TOOLING
DIE MANUFACTURING, TRY-OUT AND FINISHED PRODUCT
Die Manufacturing
Undoubtedly the key to achieving an excellent stamped part is an excellent die. FRIGERI's dies are manufactured by our exceptionally skilled die-makers in a paperless environment through a highly integrated serial process based on an unconventional and pervasive data information system, that allow us to achieve cost effective die-making operations for enhanced product realization and value.
Each stage in the transformation of raw materials and manufactured components, from when they are received until assembly and final checking in working sets, involved planned checks, carried out both on and off the line in a special area equipped with CAQ stations, aimed at verifying their continuous conformity to design requirements and preventing and correcting any parametric deviation.
The high level of company computerisation, with a 2:1 ratio (2 PCs per employee) and the wide-ranging and modern PLM and ERP management tools used, with advanced information management systems, give company units simultaneous control of order events and accurate monitoring of the state of processes to limit the incidence of disturbance factors and prevent deviation from specified requisites and the impact of these on product conformity and timing.
The efficacy of our integrated manufacturing environment is further enhanced by the power of proprietary state-of-the-art tools, sub-processes and debugging methodologies:
• Intellixpert System for Process Planning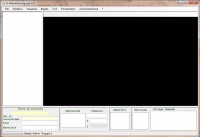 • Shop Floor CAM workstations (according to the peripheral programming frame)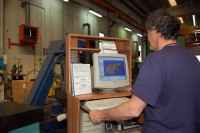 • Shop Floor PLM (Product Lifecycle Management) workstations (2:1 PC-to-employee ratio)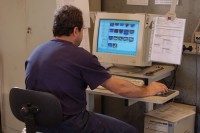 • ERP Company System, with Planning and Scheduling System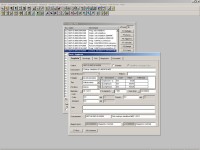 • Portable CMM (Coordinate Measuring Machine) for rapid shop floor inspections
• Bug&Issue&Wish Company Tracking System
• CTS (Company Time Statement proprietary utility) for continuous comparative monitoring (budget time vs. real time) and employee self-monitoring of each process operation time
• 2:1 PC-to-employee overall ratio
• Machining
• Assembly
Die in-house Try-Out – Installation, Test and Production Startup
During try-out of metal stamping dies, the complex interaction between material, tool and press machine needs to be mastered as quickly and efficiently as possible.
The long and severe part validation path, as coming out from our SDT environment and manufacturing operations, the in-house 500-ton hydraulic press joint with the wide third party presses range, available to FRIGERI within a 20 km radius from its plant and ranging from 40-ton to 2000-ton, enable our experienced and highly skilled testers to perform complete and controlled try-outs oriented to the final debugging, validation and qualification of the dies prior to the start of production.
Dies are subjected to internal testing with a double cycle (alpha and beta tests) and are then delivered to the Client in a state of conformity with the specified requisites, ready for direct insertion in the production cycle or for further testing and startup in the plant.
Capability studies are provided, according to the Client's requirements.
Test sessions and process parameters are documented and saved in the company's technological archive for the subsequent loop of analyses and reinsertion into the production cycle in the form of requisites.
• Try-Outs
• Finished Products
• Installation, Test and Production Startups
DIE MODIFICATION AND RE-ENGINEERING
Well aware of the central and strategic nature of the position of the diemaker in the end Client's value chain, FRIGERI supplies continuous and timely assistance to its Clients throughout the life cycle of the dies and equipment produced.
Often, Clients, to keep up with the market changes and challenges, need engineering or re-engineering changes mainly related to:
modification of the stamped part by addition, removal or transformation (e.g. geometry, shape, features, versions, variants, etc.)
modification of production process characteristics by switching, upgrading or downgrading (e.g. switching production to different presses, upgrading from line die to transfer die, downgrading the die to re-adapt to previous production conditions, improving to a higher SPM press rate, etc.)
FRIGERI responds quickly by activating its best technologies and professional workmanship to:
rapidly restore or enhance dies to produce the required new geometry, tolerances, versions and variants
modify and adapt the dies to comply with the new production process characteristics
minimize the incidence of modification time on the final delivery time (in-process modifications) and reduce at the very minimum the stop of continuous production (post-process modifications).
DIE MAINTENANCE AND REPAIR
Maintenance and Repair (M&R) of tools and dies represent often a major cost factor in the production of stamped parts. Die preventative or corrective maintenance is done in our plant, according to a consolidated protocol that ensures the Client a timely and price-effective result. During scheduled or spotted inspections, dies go through our cleaning, maintenance and regenerating procedures to ensure again to every maintained die, according to their incoming status, a long-term future of part compliance capability.
A typical M&R process route includes, as applicable:
trouble shooting analysis
incoming inspection, die wear status check and confirmation of all work to be performed for Client approval
disassembling, cleaning and inspection of all parts in the assembly
sharpening of cutting punches
surfaces regeneration
gap&timing check
replacing broken and damaged parts and components
reassembling and press testing
CMM part dimensional inspection and report
applicable iterations to ensure the final stamped part meets the specifications and requirements of the Client
THIRD-PARTY DIES
FRIGERI's services spectrum includes and covers not only FRIGERI's dies, but also full third-party dies management.
It is well known that, owing to die design or manufacturing native deficiencies or inadequacies, which are harmful to tool performance and generate an uncontrolled and highly expensive production process (scraps, deviations, instability, reworking, ecc.) or, more simply, owing to ageing dies that are nearing the end of their life span, many companies often face the dilemma between continuing to accept the high ownership costs of an inadequate tool set or, worse, of interrupting production (both major costs that companies cannot afford) as opposed to making an high investment in re-tooling.
To avoid the high costs of re-tooling and to fix production issues, FRIGERI offers to apply also to third-party dies its wide range of technologies and services:
re-building of dies
in-house reverse engineering
redesign with stamping post-simulation
re-engineering and modification
repair and reconditioning
follow up maintenance
See more about Frigeri Tooling here, here and here
STAMPING PRODUCTION
Experience acquired directly and agreements with seasoned companies specialising in continuous stamping, the in-house 500-ton hydraulic press joint with the wide third party presses range, available to FRIGERI within a 20 km radius from its plant and ranging from 40 to 2000 ton, coupled with the remarkable production flexibility Frigeri has thanks to its location in an area with many mechanical enterprises, allows FRIGERI, in addition to dies and production equipment, to supply to Clients:
pre-production run
first run production
medium to low volume production
serial production
When required, secondary and ancillary processes are evaluated and included as well.
EXPERTISE, CONSULTANCY AND OUTSOURCING SUPPORT
Added value available to Clients who choose FRIGERI comes from broad spectrum services of expertise, consultancy and outsourcing support that FRIGERI makes available as a natural distillate of its more than 45 years of activity.
The expertise, consultancy and outsourcing support services include:
analysis of the formability of the stamped element through press simulation
feasibility studies or complete sales offers for engineering and general contracting companies operating in international markets to supply technologies and know-how
regeneration and reconversion of existing dies and equipment
surveys and consultancy on quotes or dies from third parties
definition of specifications for the selection and purchase of dies and presses
setup of new production plant and workshop assistance
outsourcing supportfor the selection of the best and most competitive suppliers available on the market for the purchase of:

Industrial Design
Automated/Integrated Lines For Sheet Metal Working And Assembling
Presses And Press Lines For Sheet Metal Working
Tool & Die Ancillary Appliances
Special Machines and Equipment
Production Stamping