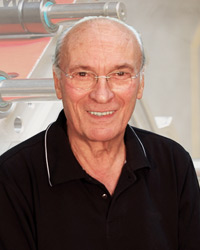 FRIGERI was founded in 1966 in the belief that designing and manufacturing well-conceived stamping dies was not solely the prerogative of big toolmaking companies.
Ever since, FRIGERI has been committed to producing high-performance, compliant stamping dies offering the best price-value ratio. Without compromises, without frills, acting only in the best interests of our Clients.
Our top priority is excellence where it counts most – right where we produce the dies. And our exceptionally skilled team is also committed to driving costs down. This is how we keep our prices competitive.
FRIGERI is a family owned and operated business. For two generations it has guaranteed to all its Clients integrity, value and commitment.
We use cutting-edge science in designing our products. We choose our raw materials, components and suppliers only after rigorous selection. We develop highly advanced testing and intelligent manufacturing methods, that are implemented by highly trained staff who share our mission.
FRIGERI want to be in the forefront of technological evolution. But in more than four decades, one thing has never changed: our commitment to providing dies that allow our Clients to get the best out of their businesses.
Welcome to our website and have a nice tour.