R&D
Any company that limits itself to standing still and does not perceptibly progress, is actually not merely stationary, but moving backward, no matter how good its market position be.

Our R&D has been established as an ongoing process, lasting the whole year, year after year. On one side, our designers and engineers, by company policy, are always on the lookout for improvements and innovations, striving to fulfil their basic mission: building new stocks of knowledge for the community's members.
On the other side, company leadership carefully evaluates structured proposals, ideas and projects, providing the best among them with the support and resources needed for them to be conceptualized, designed, developed, tested and implemented on a systematic basis.

At FRIGERI we are strongly determined to become a better company. To excel among the excellent.
We don't aim to be better than others. We just want to better ourselves, to become every day more expert and more able at doing our job.
This is why FRIGERI invests between 2.5 and 5% of its annual turnover in Research & Development.
FRIGERI, despite being a small company, is a high-level job shop and a lean, well-organised R&D lab.

What drives and motivates our research is not so much the speed of changes in today's global economy, nor the awareness, that in FRIGERI is full and deep, of its structural complexity and high selectivity. It is rather our unquenchable thirst for knowledge and our individual and collective drive to find ways and instruments for doing what we do better, and so give greater value to our Customers.
All this means for us not just exploring exciting new technological possibilities, but above all redefining what is to be considered technologically possible.

FRIGERI's operational R&D structure uses:
- internal resources;
- external specialists and consultants;
- relationships and collaboration with universities and research institutes.
FRIGERI's R&D work follows four main lines:
- predictive technologies (product and processes);
- intellixpert process technologies;
- company knowledge management;
- cost control and reduction methods.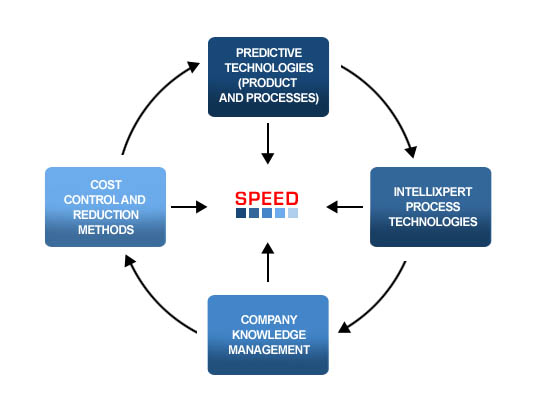 Below are abstracts of some R&D projects Frigeri is currently developing:
# 0662.05: R&D C.A.P.P. Project
# 0662.25: Structural analysis of die shoes aimed at constraint-based and free-form based redesign
# 0662.50: Automation of bending simulation
# 0662.55: Prediction of frictions values during complex stamping operations
# 0662.70: Kinematic study for large assemblies
# 0662.95: Determination of methods for machine capability testing
# W001-A: Study of a universal single-forming dieless system to produce sheet metal parts
# W001-B: In-process control of advanced stamping dies
# W001-E: Determination of methods and tests to obtain full FLC/FLD of stamping raw materials
Project # 0662.70
Kinematic Study For Large Assemblies Screenshots
> 0662.70 A-series
> 0662.70 B-series